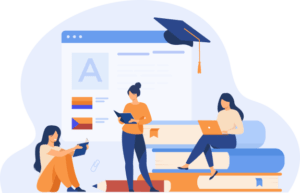 There is immense growth in the cloud market. The cloud market presents the opportunity for companies and tech giants to explore and grow with the help of automation. Amazon Web Services has been moving forward swiftly in the cloud services industry. It has become an essential source of revenue for Amazon. That is why it is the right time for you to discover the career opportunities that AWS has to offer.
The path to starting a career with Amazon gets easier with AWS certification. So, it is essential to read about AWS certification before exploring career opportunities.
What is AWS Certification?
The AWS certification is designed according to the requirements and demands of the industry. Big tech companies require specific cloud-based skills and are dedicated to solutions from particular service providers like AWS. So, the certification helps you effectively install robust and secure applications on AWS. It also allows you to find a suitable AWS service based on security requirements, compute, and data.
Once you prepare for the AWS cert exam and obtain the certification, you will acquire many skills like:-
Create and deploy highly scalable and available systems on AWS
Effectively manage egress and ingress data to and from AWS
Find the suitable usage of AWS architectural best practices
Analyze AWS pricing and the cost control mechanisms
Obtaining the AWS certification will open doors for job opportunities like AWS Engineer, AWS Solutions Architect, Cloud Architect, and DevOps Engineer.
Knowing everything about the AWS certification and its importance, let us now look at the career opportunities one can explore with the help of AWS certification.
AWS Certification: Career Opportunities
Within a short period of time, professionals who are AWS certified are being rated as the highest paid certification holders from the IT sector. $113,932 is the average income of a certified employee. And it can increase up to $201,000.
Following are the job roles and salaries of AWS Certified professionals:-
AWS Cloud Architect
Cloud architects deal with lead implementation and technical architecture. They ensure that the company is adopting new technologies. AWS Cloud Architects collaborate with clients and engineers and interface with technical leadership and stakeholders.
The income of AWS cloud architects varies and depends on various factors. For example, it depends on the skills in AWS like Microsoft Azure, Cloud Computing, Enterprise Solutions, and System Architecture.
In India, the average income of a Cloud Solutions Architect is INR 921,677.
Cloud Developer
Cloud developers deal with software applications development and find solutions for enterprises. If you have a good amount of experience and knowledge of AWS platform and software development, you can pursue different AWS roles. AWS certification will help you take your career one step up as a cloud developer.
Some of the popular skills required for a cloud developer are Linux, AWS, Cloud Computing, and Microsoft Azure.
In India, on average, a Cloud Solutions Engineer earns INR 701,000.
Cloud DevOps Engineer
A DevOps Engineer is a professional who has expertise beyond the development in system deployment and network operations. Therefore, hands-on experience and deep knowledge of the AWS platform can lead to many new opportunities. Not to forget that if you have authenticated your skills and experience with AWS certification, your chances of securing an AWS job doubles.
Required skills for a DevOps Engineer include the knowledge of Linux, Jenkins, AWS, Development Operations, and Python.
In India, the average income of DevOps Engineers is INR 667,182.
Cloud Software Engineer
If you are a software engineer and know languages like Python, JavaScript, Ruby, and C++, there is a high chance to nourish your career with AWS. Your skills in developing, designing, and implementing software/systems on AWS can open doors to opportunities to get AWS jobs. So, now is the time to validate your development and software skills with AWS certification.
In India, the average income of a Cloud Software Engineer is INR 669,476.
SysOps Administrator
An AWS SysOps Administrator is an individual who deals with the deployment, management, and operating systems on the AWS platform. So, if you understand deploying production operations on AWS cloud, you can authenticate your skills with AWS SysOps Administrator certification.
The average salary of a SysOps Administrator in India is INR 399,285.
System Integrator- Cloud
System Integrators work in a team that supports troubleshooting efforts and complicated deployments. The work of system integrators requires a deep knowledge of information systems and cloud computing.
The average yearly income of system integrators is $81,000.
AWS Solutions Architect
AWS Solutions Architects works to build, maintain, and architect scalable, highly available, and cost-effective AWS cloud environments. They also recommend toolsets and keep it updated with the latest cloud computing.
Having read about the career opportunities after obtaining AWS certification, it is essential that you also familiarize yourself with the exam guides related to the AWS cert exam. AWS Cloud Practitioner is one such important cert exam.
How to secure a job after obtaining AWS certification?
Looking at these job opportunities, it is clear that the field of cloud computing will continue to evolve and increase with different types of job roles. Familiarizing yourself with the essential AWS concepts will play a critical role in pursuing your career and securing an exciting position with a higher salary. Through hard work and studying, any of the above-listed jobs can be secured by obtaining your AWS certification.
Ready to pursue a career in AWS? It is the right time to take the next step by enrolling yourself for a cert prep course. Many platforms offer courses for AWS certification prep. But for a personalized approach and guidance, register on saasguru.co The platform provides a unique way of learning and obtaining certifications. saasguru not only offers good quality study material but also adds fun to your knowledge with the help of personalized courses and mock exams. The Slack Community of saasguru is another crucial feature of the platform. It provides learners with an opportunity to interact with fellow aspirants and hold meaningful discussions.